Three Options to Earn your High School Equivalency or Diploma
Decide your path and your pace.
Albany Technical College now offers multiple options for achieving your high school equivalency or diploma. Two computer-based testing (CBT) pathways are available through testing centers or proctored at home: the High School Equivalency (HSE) test or the HiSET® exam. TCSG is also piloting a workforce-based solution to a high school Diploma (HSD) through joint enrollment called Career Plus HSE.
Earning a high school equivalency or diploma increases your paycheck by an average of $8,000 per year (US Bureau of Statistics)
Financial assistance is available to those who qualify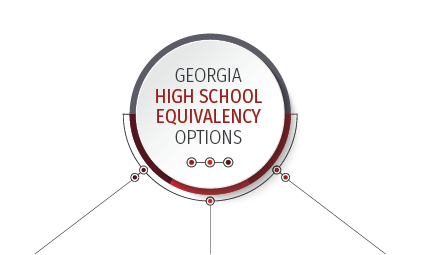 01
CareerPlus HSD
Use Previously Earned High School Credit or HSE tests
Must be 18 or Older
Online or In-Person
Tuition Free Programs Available
Multiple Career Pathways
02
HSE Test
Four Sections: Language Arts, Math, Science, Social Studies
Must be 16 or Older
FREE Prep Classes
Online or In-Person
Scholarships Available
$184 for ALL Tests: $46 per subject
03
HiSET® Exam
Five Sections: Reading, Writing, Math, Science, Social Studies
Must be 16 or Older
FREE Prep Classes
Online or In-Person
Scholarships Available
$133.75 for ALL Tests: $26.75 per subject
Class Offerings
HSE Preparation (HSE and HiSET® Prep Classes
English as a Second Language
Basic Skills Classes in Math, Reading, and Language/Writing
Distance Education/Virtual-Online Classes
Fast Track GED/HSE Classes
Integrated Education and Training