Request A Transcript
Albany Technical College has appointed Credentials, Inc. as the designated agent for processing and sending all official printed and electronic transcripts. We no longer accept transcript orders via mail, fax, or email. Please follow the steps below to place your transcript order online. If you are unable to place an order over the internet, you may call Credentials Inc. at 847-716-3005 to place your transcript request by phone. There is an additional operator surcharge for placing orders over the telephone. Transcripts cannot be issued to students with financial obligations to the college.
Transcript Request Fee
The Transcript Request Fee is $7.50 per transcript.
---
Transcript Request Method #1
Quickest Method – Login Required:
Login to your MyTitans Bannerweb portal
You may prefer to use this method if you are a current or former student of Albany Technical College, who is or were enrolled in a college credit program of study, and if you began your program After 1993. This is the quickest method because the system identifies who you are through your student account.
Instructions:
Enter Secure Area: User Name: SSN or Student ID – And- Default Pin is Date of Birth MMDDYY format
Click on Student Services & Financial Aid
Click on Student Records
Order Official Transcript
---
Transcript Request Method #2
No login required
If you attended BEFORE 1993 or you are unable to login to your student Bannerweb portal, Simply Click on the TranscriptsPlus icon below and Click "Begin Order".

To Check the Status of a Transcript Request:
By Email: You will receive email notices about your status. Check your email for updates
By Text Messaging: Notifications are sent via text if you entered your cell phone # on your request
By Phone: Call the TranscriptsPlus Customer Service at 847-716-3005
Online: credentials-inc.com Click on "Offerings" > Click on "Check Order Status"
---
To Print and Unofficial Transcript
(CURRENT STUDENTS & ALUMNI 1993 - PRESENT)
Enter Secure Area: User Name: SSN or Student ID – And- Default Pin is Date of Birth MMDDYY format
Click on Student Services & Financial Aid
Click on Student Records
Click on Academic Transcript
Click Submit
---
To Reset your Bannerweb PIN
If you have changed and/or forgotten your Bannerweb log-in pin number, you may reset it using the instructions below:
Enter Secure Area
Username: Social Security# or Student ID#
Click on Forgot Pin
Answer your Security Question (Please note that your answer is case sensitive)
---
GED® Transcripts
THE GED® TRANSCRIPT/DIPLOMA REQUEST PROCESS IS NOW ONLINE!
The Georgia GED® Testing Program is now offering a faster way to submit a request for official GED® transcripts & duplicate GED® diplomas. It's as easy as 123.........
Simply go to www.tcsg.edu:
Click the "GED®" tab
Click "Request Official Transcripts and Diplomas"
Complete and submit the "Online Request Form"
Next Day delivery is also available for an additional fee.
Questions? Contact us at (800) 94 MY GED or (404) 679-1645
---
Transcript Request Online Order Assistance:
If you do not see any example listed below to assist you with the online ordering transcript process, please contact Transcripts Plus Customer Service directly at 847-716-3005.
Student Information:
If you log in through your Bannerweb, all of this information will be pre-filled in for you. If not, manually enter your information on this page.
Have you Forgotten your Student ID#? You may use your SSN# instead
Have you Forgotten your Dates of Attendance? Attendance can be estimated – you will not have to enter in the exact dates in order for your request to be processed.
Student Information Example: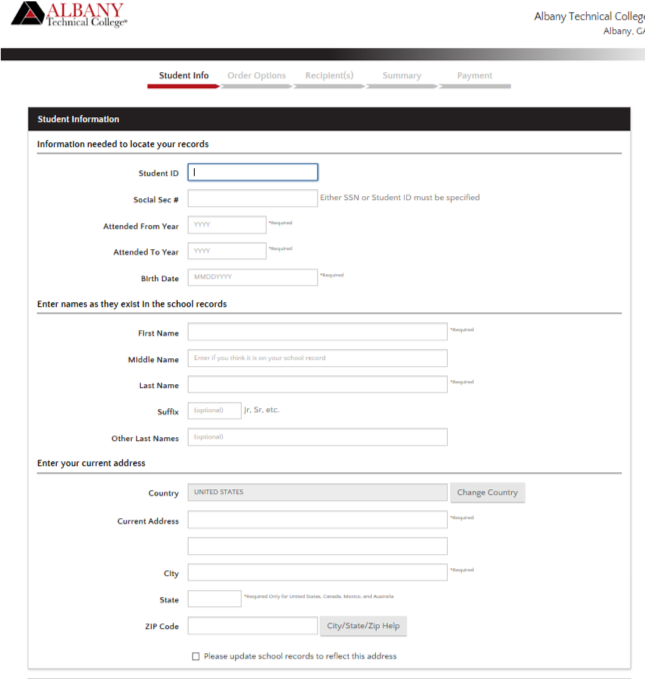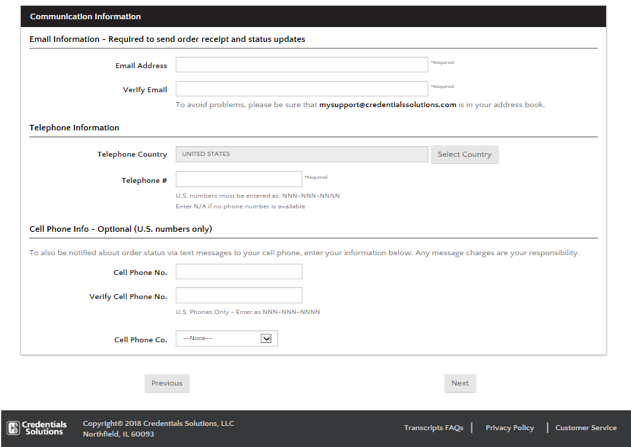 Order Options:
This page allows you the option to choose when to have your request sent.
Order Options Example: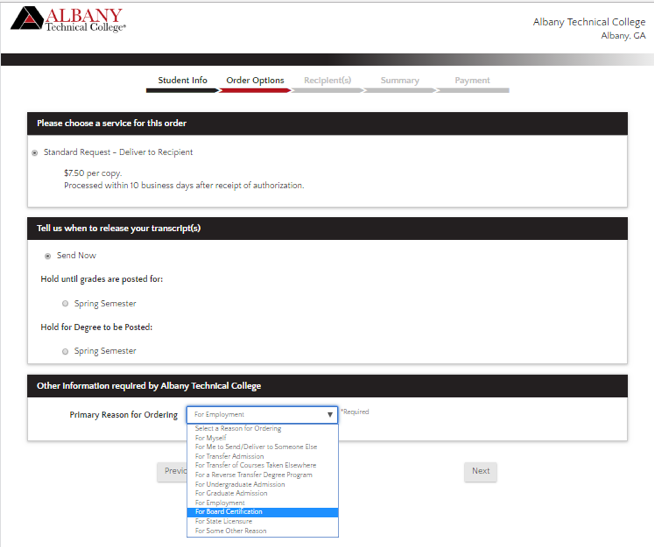 Recipients
This is the page where you select who will receive your transcript.
Recipients Example: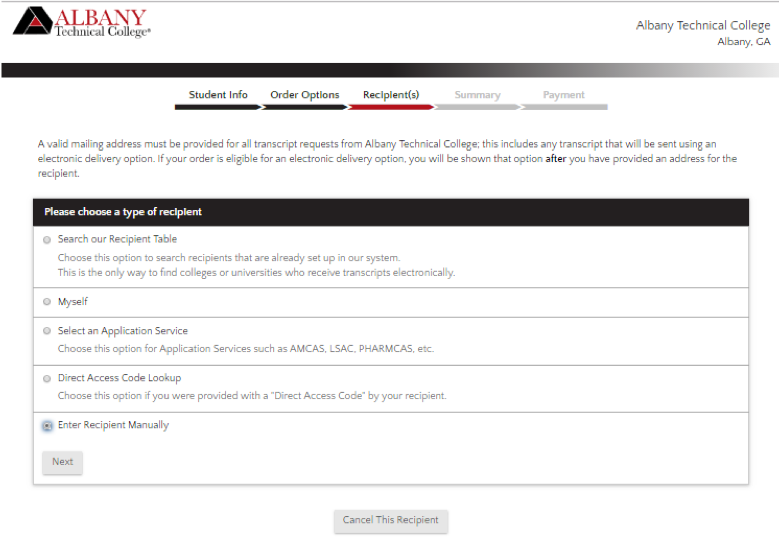 Transcript Going to a School?

"Search Recipient Table" - Choose this option to locate your school of choice.
Pick the State of the school and Type in the Name of the school
Delivery Option : You may have an option to choose PDF or MAIL

PDF – Electronic Transcript – Can be delivered to the school in a few hours
MAIL – Will be mailed out the same day as processed

Transcript Sent To You?

"Myself" - Choose this option:
Confirm your Mailing Address
Delivery Option : You may have an option to choose PDF or MAIL

PDF – Electronic Transcript – Can be sent to you electronically if you need to upload your transcript

Enter your email address and confirm it

MAIL – Will be printed and mailed to you directly.

Sending to an Application Service?

"Select an Application Service" - If you are sending your transcript to a Certifying Board for licensing purposes, ex. Georgia Professional Standards Commission (Teaching Certification) or AAMA American Association of Medical Assistants, etc.

Using a Direct Access Code?

Direct Access Code Lookup - Choose this option if you were given a 7-character Direct Access Code

Sending transcripts to an Employer, Military Recruiter, Scholarship Board, etc. ?

"Enter Recipient Manually" - Choose this option if you are wanting to send your transcript directly To a Military Recruiter, Potential/Current Employer, Scholarship Board, etc.
Enter the Recipients Type
Enter the Recipients Address
Delivery Option : You may have an option to choose PDF or MAIL

PDF – Electronic Transcript – Can be delivered directly to them within a few hours
MAIL – Will be mailed out the same day as processed