ALBANY, GA – Albany Technical College's graduation commencement celebrating the accomplishments of graduates for Fall 2022 will take place Tuesday, November 29, at 7:00 pm at the James H. Gray Civic Center. Candidates for Technical Certificates of Credit, Diplomas, Associate Degrees, and High School Equivalencies will be recognized for their accomplishments. This notification is an official invitation to the graduates, families, friends, and community to view the Fall 2022 Graduation Commencement of Albany Technical College. A video of the ceremony will be released on Albany Tech's YouTube Channel and Mediacom Channel 19 (ASU TV).
The Fall 2022 (11/29/22) ATC commencement is scheduled to be rebroadcast as noted below:
Media Com Cable Channel 19: Friday-Monday, December 2-9, 2022, 1 pm and 9 pm.
*WASU-FM 92.7: Saturday, December 3rd @ 11 am; Thursday, December 8th @ 12 noon
*Catch the FALL 2022 ATC on WASU-FM 92.7FM and stream us http://ruby.streamguys.com:5540/live
Graduates picked up caps and gowns at an event in October and had an opportunity to purchase class rings. "We are happy to announce that ATC has a total graduating class of 576 students with an overall sum of awards totaling 624 for the fall 2022 commencement. This includes Technical Certificate of Credit, Diploma, or Associate Degrees," stated Kennosha Hawkins, Albany Technical College Registrar.
Dr. Emmett Griswold, President of Albany Technical College, said, "We are very proud of the achievements of these recent graduates. It has taken a lot of hard work to reach their goals, and we know they will represent Albany Technical College well as they enter the workforce or continue their education."
The Keynote speaker for the ceremony is Judge Victoria S. Darrisaw, Dougherty Superior Court.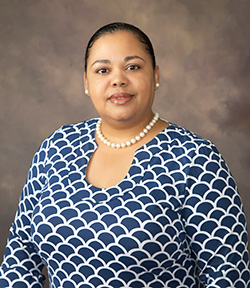 Victoria S. Darrisaw was appointed to the Dougherty Superior Court on August 8, 2018, by Governor Nathan Deal. She was re-elected county-wide in 2020. Previously, Judge Darrisaw served as Chief Judge of Dougherty State Court from 2012 to 2018 (after her election to an open seat) and as a Magistrate Judge from 2009 to 2012. Before taking the bench, Judge Darrisaw served as a prosecuting attorney in both the Dougherty Judicial Circuit (ending her prosecutorial career as a Senior Assistant District Attorney) and in the South Georgia Judicial Circuit.
Judge Darrisaw was born in South Carolina but reared in Atlanta, where she obtained her undergraduate degree from Spelman College. She earned her Juris Doctorate degree from the Walter F. George School of Law at Mercer University, where she was a member of the Moot Court Board, the ABA moot court competition team. She received the International Academy of Trial Lawyers Student Advocacy Award upon graduation.
After graduating from law school, Judge Darrisaw served as a judicial law clerk to Bibb Superior Court Judges W. Louis Sands and Tommy Day Wilcox. Thereafter, she served as a federal law clerk to USDJ W. Louis Sands in the Albany Division.
In addition to maintaining a full civil and criminal caseload, Judge Darrisaw currently presides over the Dougherty County Mental Health Substance Abuse Treatment court. This accountability court was started by the late Judge Steve Goss and has the distinction of being the first felony level mental health court in Georgia. Judge Darrisaw also acts as presiding judge for the Dougherty Department of Community Supervision's Day Reporting Center, a program that offers an alternative to incarceration for active probationers.
She is an active member of the Council of Superior Court Judges and the Council of Accountability Court Judges. Judge Darrisaw serves on the boards of or is a member of, the following organizations: Easterseals of Southern Georgia, Inc., Albany Rotary Club, Boys and Girls Club of Albany, Junior League of Albany (sustainer), Albany Area Primary Health Care, Albany Bank, and Trust. She is a member of the Leadership Albany Class of 2009 and the Leadership Georgia Class of 2013. In September 2022, Judge Darrisaw was appointed by the Georgia Supreme Court to serve on the Investigative Panel of the Judicial Qualifications Commission.
Judge Darrisaw is married to George E. Darrisaw Jr., a Lincoln Elementary Magnet School music specialist. They have two children, George III and Helen. She and her family are active members of Mount Zion Baptist Church of Albany.
Note - ASU-TV 19 broadcasts throughout the Albany area and surrounding southwest Georgia counties on Mediacom channel 19 and on campus on College Cable on channel 7. The graduation will also be broadcast on WASU-FM 92.7 which is the local college radio station.