Food Trucks and Titan Café Fall Semester 2023 Starting August 15, 2023
Lunch (Tuesday and Thursday 11 am – 3 pm) Cash, debit or credit cards are accepted.
We are excited to announce a new and flavorful addition to our Albany Technical College campus starting in the Fall Semester of 2023. Join us as we embark on a culinary adventure with a fantastic line-up of food trucks behind the Logistics Education Center (LEC) on Tuesdays and Thursdays, from 11 am to 3 pm.
Featuring a variety of flavors and cuisines, our food truck initiative aims to diversify our campus' food offering and to provide an exciting culinary experience for all members of our community. Whether you are looking for a quick bite between classes or a unique lunch option, these food trucks are sure to hit the spot with their assortment of delicious meals.
Please keep in mind that the specific food trucks and their offerings may vary throughout the semester, so we encourage you to keep an eye out for updates and surprise new flavors.
The food trucks will be located behind the Logistics Education Center building. Windows for the trucks will be facing the sidewalk located in employee parking #3.
THe first line of parking will be occupied by vendors every Tuesday and Thursday.
Location of Food Trucks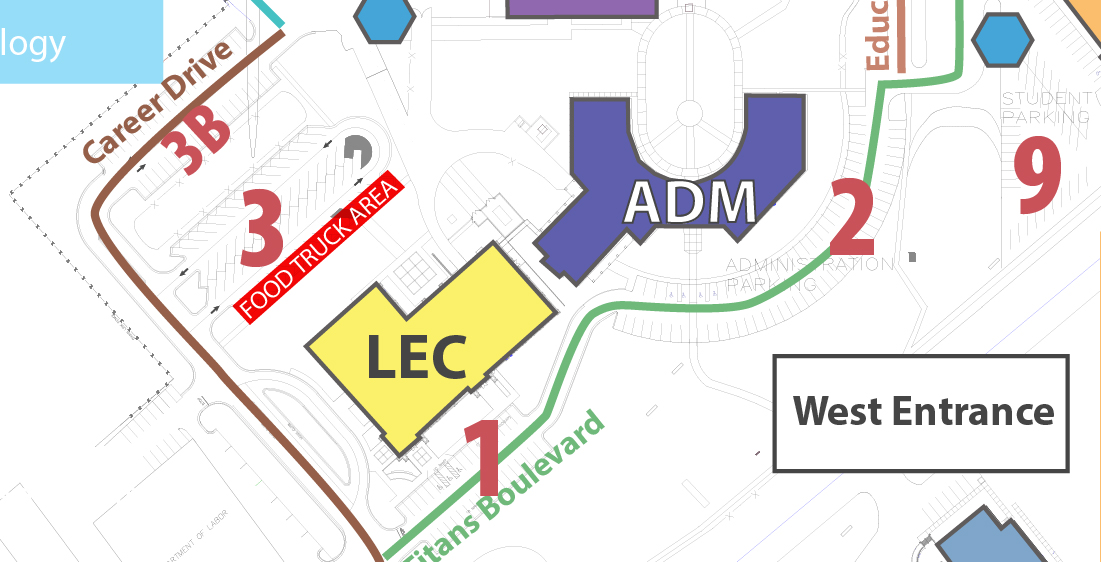 Vendors and Menus
Titan Café – Administered through Culinary Arts Cash, debit or credit cards are accepted.
Even with the introduction of our new food truck initiative, the Titan Café remains an integral part of our campus food and beverage service. The Café will be open Monday –Friday from 8 am to 11 am for breakfast, offering a range of healthy and hearty options to kickstart your day.
In addition to serving breakfast, Titan Café will be open for lunch on Monday, Wednesday, and Friday from 11 am to 3 pm. These are the days when the food trucks are not in operation on campus, ensuring that you always have a variety of dining options available on campus.
Please note, the Titan Café operational hours are subject to change in response to campus events and holidays. We advise checking with the café directly or consulting our online schedule for the most accurate and up-to-date information.
We look forward to seeing you there! Come join us at the food trucks or Titans Café for a delightful dining experience. You won't be disappointed! Enjoy the flavors of Albany Technical College.
Hours
Monday, Wednesday & Friday
8:00am - 2:00pm
Tuesday & Thursday
8:00am - 10:00am
---
Titan Cafe Menu