Living Wage Salaries by Program of Study
Are you looking to increase your earning potential and boost your career? One way to do this is by earning a two-year degree, diploma, or certificate. The U.S. Bureau of Labor Statistics has identified many high-paying jobs that only require a two-year degree or less. By investing in your education and training, you can open the door to a successful and lucrative career.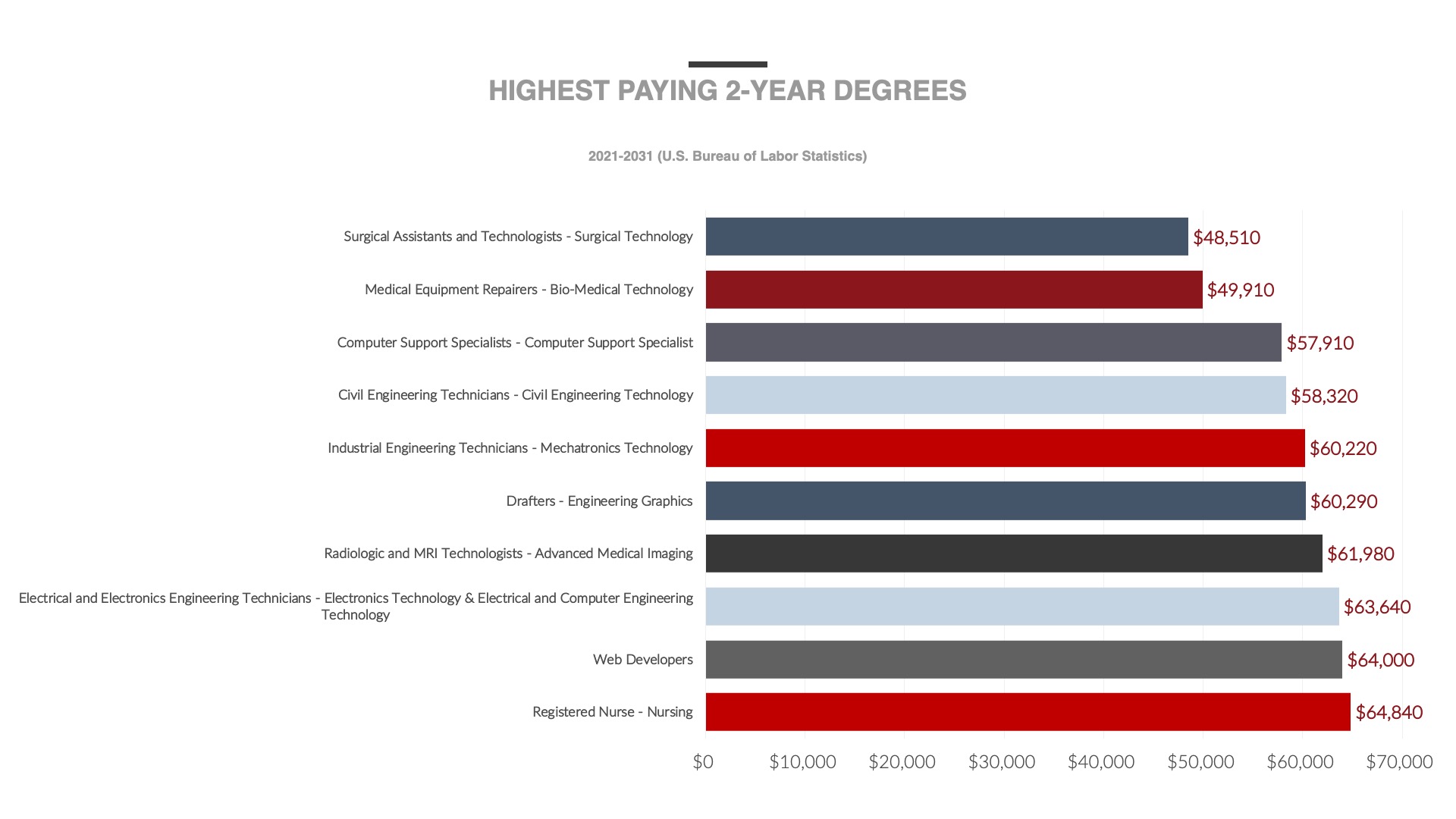 ---
If you're looking to make more money quicker, obtaining a high-paying diploma or certificate may be a good option for you. There are a variety of diplomas and certificates that can lead to high-paying jobs in a range of industries.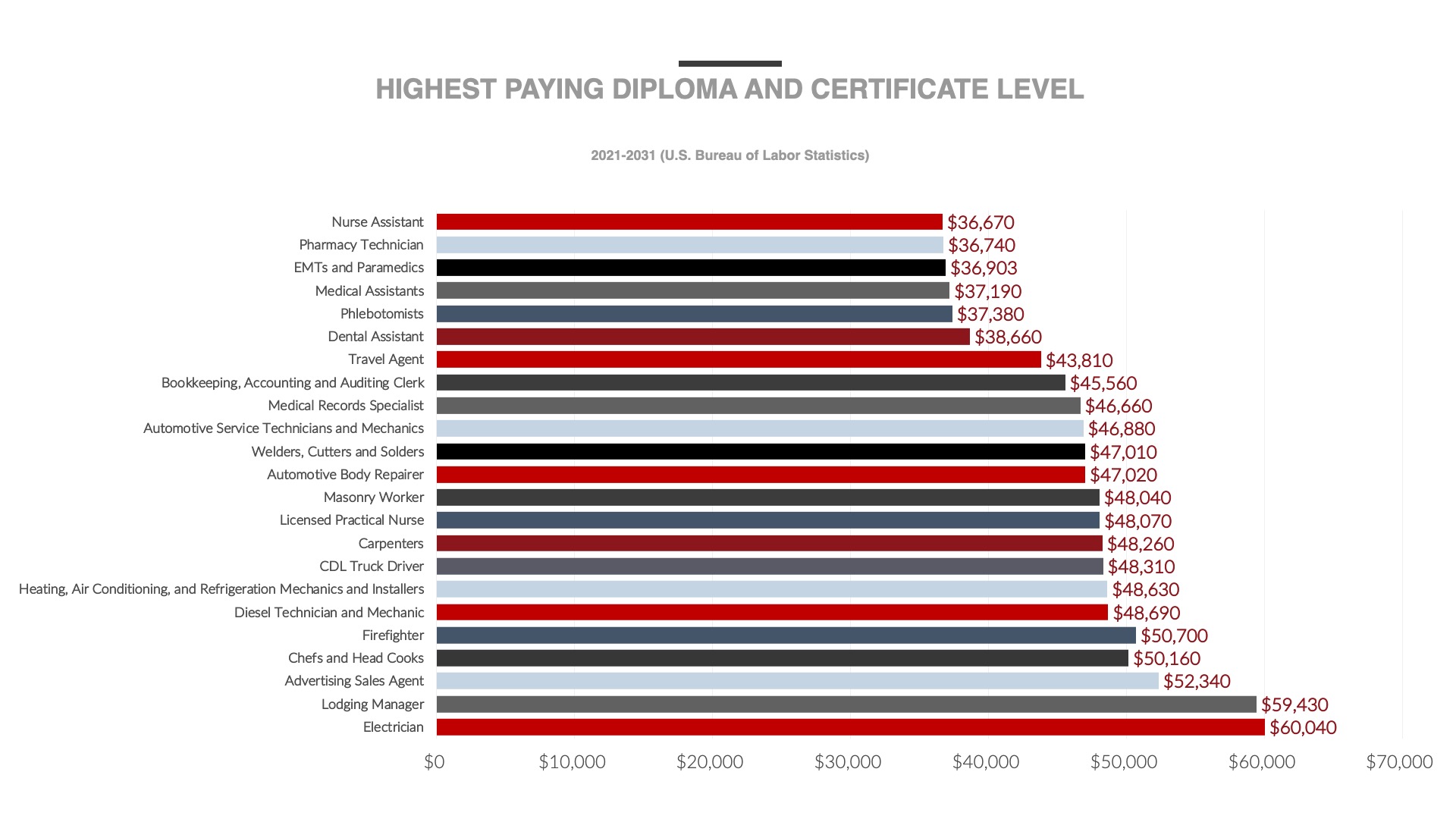 ---
HIGHEST PAYING 2-YEAR DEGREES
2021-2031 (U.S. Bureau of Labor Statistics)
Registered Nurse - Nursing

Industry - Healthcare

Median Annual Salary (2021)-In Georgia $64,840

Projected Job Growth (2021-2031) 9%


Industry - Computers/Marketing

Median Annual Salary (2021) $64,000

Projected Job Growth (2021-2031) 23%

Electrical and Electronics Engineering Technicians - Electronics Technology

Industry - Architecture and Engineering

Median Annual Salary (2021) $63,640

Projected Job Growth (2021-2031) 0%


Industry - Healthcare

Median Annual Salary (2021) $61,980

Projected Job Growth (2021-2031) 6%


Industry - Architecture and Engineering

Median Annual Salary (2021) $60,290

Per hour $28.99


Industry - Architecture and Engineering

Median Annual Salary (2021) $60,220

Projected Job Growth (2021-2031) 3%


Industry – Architecture and Engineering

Median Annual Salary (2021) $58,320

Projected Job Growth (2021-2031) 0%


Industry - Computer and Information Technology

Median Annual Salary (2021) $57,910

Projected Job Growth (2021-2031) 6%

Medical Equipment Repairers - Bio-Medical Technology

Industry - Healthcare

Median Annual Salary (2021) $49,910

Projected Job Growth (2021-2031) 17%

Surgical Assistants and Technologists - Surgical Technology

Industry - Healthcare

Median Annual Salary (2021) $48,510

Projected Job Growth (2021-2031) 6%

Reference
---
HIGHEST PAYING DIPLOMA AND CERTIFICATE LEVEL
2021-2031 (U.S. Bureau of Labor Statistics)

Industry - Construction

Median Annual Salary (2021) $60,040

Projected Job Growth (2021-2031) 7%

Industry Hospitality

Median Annual Salary (2021) $59,430

Projected Job Growth (2021-2031) 18%

Industry - Business and Retail

Median Annual Salary (2021) $52,340

Projected Job Growth (2021-2031) -8%

Industry Hospitality

Median Annual Salary (2021) $50,160

Projected Job Growth (2021-2031) 15%

Industry - Public Safety

Median Annual Salary (2021) $50,700

Projected Job Growth (2021-2031) 4%

Industry - Transportation

Median Annual Salary (2021) $48,690

Projected Job Growth (2021-2031) 4%
Heating, Air Conditioning, and Refrigeration Mechanics and Installers - Air Conditioning Technology

Industry - Construction

Median Annual Salary (2021) $48,630

Projected Job Growth (2021-2031) 5%

Industry - Transportation

Median Annual Salary (2021) $48,310

Projected Job Growth (2021-2031) 4%

Industry - Construction

Median Annual Salary (2021) $48,260

Projected Job Growth (2021-2031) 2%

Industry - Healthcare

Median Annual Salary (2021) $48,070

Projected Job Growth (2021-2031) 6%

Industry - Construction

Median Annual Salary (2021) $48,040

Projected Job Growth (2021-2031) -2%

Industry - Transportation

Median Annual Salary (2021) $47,020

Projected Job Growth (2021-2031) 3%

Industry - Construction and Metal

Median Annual Salary (2021) $47,010

Projected Job Growth (2021-2031) 2%
Automotive Service Technicians and Mechanics - Automotive Technology

Industry - Transportation

Median Annual Salary (2021) $46,880

Projected Job Growth (2021-2031) 1%
Medical Records Specialist - Health Information Management Coding

Industry - Healthcare

Median Annual Salary (2021) $46,660

Projected Job Growth (2021-2031) 7%
Bookkeeping, Accounting and Auditing Clerk - Accounting Technology

Industry - Business and Accounting

Median Annual Salary (2021) $45,560

Projected Job Growth (2021-2031) -5%

Industry - Hospitality

Median Annual Salary (2021) $43,810

Projected Job Growth (2021-2031) 20%

Industry - Healthcare

Median Annual Salary (2021) $38,660

Projected Job Growth (2021-2031) 8%

Industry - Healthcare

Median Annual Salary (2021) $37,380

Projected Job Growth (2021-2031) 10%

Industry - Healthcare

Median Annual Salary (2021) $37,190

Projected Job Growth (2021-2031) 16%

Industry - Healthcare

Median Annual Salary (2021) $36,903

Projected Job Growth (2021-2031) 7%

Industry - Healthcare

Median Annual Salary (2021) $36,740

Projected Job Growth (2021-2031) 6%

Industry Healthcare

Median Annual Salary (2021) $30,290

Projected Job Growth (2021-2031) 5%

Reference
---
Academic Year 2023 Reporting on 2022 Graduates Placement Rates
| PROGRAM | TOTAL PLACEMENT RATE | IN-FIELD PLACEMENT |
| --- | --- | --- |
| | | |
| AAS-Technical Studies | 100% | 100% |
| Accounting | 100% | 100% |
| Air Conditioning Technology | 100% | 85.30% |
| Auto Collision Repair | 100% | 88.90% |
| Automotive Technology | 100% | 100% |
| Barbering | 100% | 96% |
| Building and Facilities Maintenance 100.0% | 100% | 100% |
| Business and Office Technology | 99.30% | 87.50% |
| Carpentry | 100% | 88.20% |
| Civil Engineering Technology | 100% | 100% |
| Commercial Truck Driving | 99.20% | 93.90% |
| Cosmetology | 100% | 98.90% |
| Criminal Justice | 100% | 96.10% |
| Culinary Arts | 100% | 90.90% |
| Cyber and Related | 100% | 88.10% |
| Dental Assisting | 100% | 100% |
| Diesel Equipment Technology | 100% | 100% |
| Distribution-Materials Management | 100% | 100% |
| Drafting | 100% | 100% |
| Early Childhood Care and Education | 100% | 96.60% |
| Electrical Construction and Maintenance | 100% | 100% |
| Electronics and Telecommunications | 100% | 100% |
| Electronics-Computer Engineering Technology | 100% | 100% |
| Environmental Horticulture | 100% | 100% |
| Fire Science Technology | 100% | 100% |
| Hotel-Restaurant-Travel Managementad | 100% | 88.90% |
| Industrial Systems Technology | 100% | 100% |
| Management‑Supervisory Development | 100% | 99.50% |
| Marketing Management | 100% | 100% |
| Media Production | 100% | 75% |
| Medical Assisting | 100% | 66.70% |
| Medical Laboratory | 100% | 91.70% |
| Nursing | 100% | 100% |
| Paramedic Technology | 100% | 100% |
| Pharmacy Technology | 100% | 100% |
| Practical Nursing and Related Programs | 100% | 97.10% |
| Radiologic Technology | 100% | 100% |
| Surgical Technology | 100% | 100% |
| Welding and Joining Technology | 100% | 100% |
Source:
Technical College System of Georgia
Knowledge Management System Database (TCSG KMS Database)
Reports-TEC0145 & TEC0112
Placement of AY 2022 Graduates as of September 2023