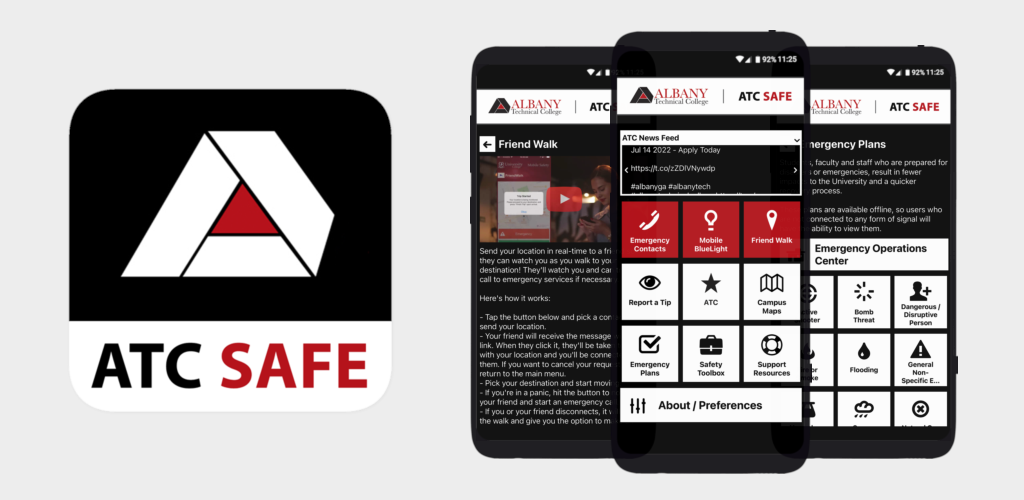 Welcome to ATC SAFE, the latest safety feature offered at Albany Technical College.
ATC Safe is a mass communications and incident response app that allows students to receive safety-related alerts and also quickly get in contact with emergency responders in case of an incident on campus. (Don't worry, we will not blow up your phone with messages.)
ATC SAFE offers various features conveniently set in an easy-click button style. Emergency contact numbers, campus maps, emergency plans, and even a safety toolbox are all included. You also have access to ATC emergency plans about what to do in situations like a bomb threat or an active shooter on campus. There's even a feature for reporting a tip.
And for safety at night, you can add a friend using "Friend Walk" so that you can be seen on campus in real-time walking to your car via live maps.
How to use ATC SAFE
Log in through your single sign-on Okta account
So, what are you waiting for? Download the App from your Google Play or Apple Store and use it daily to access the college website. And most importantly, remember that this is for your improved safety on campus.  
We care about your safety, and these steps have been taken to make sure everyone has proper communication in today's times. Stay safe, download the App and share it.